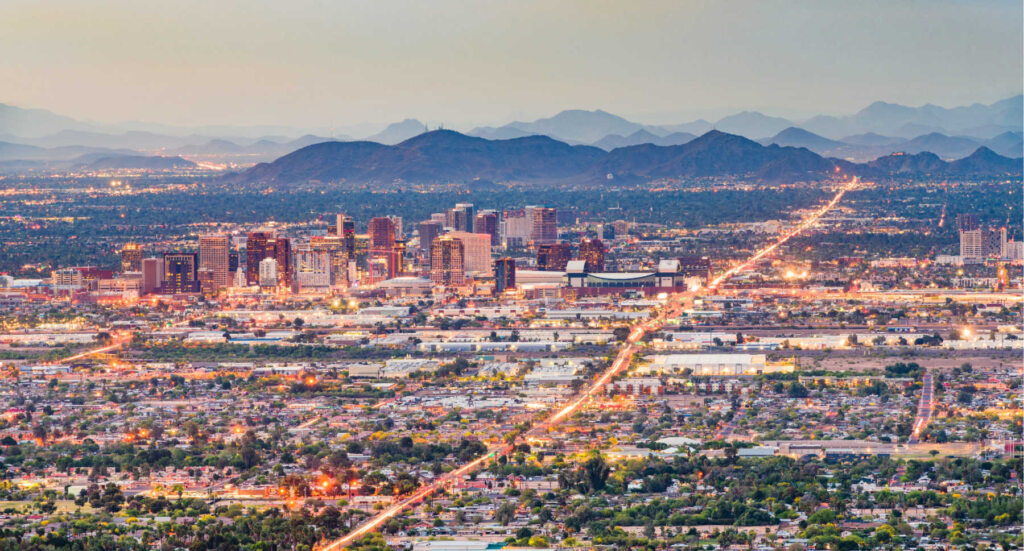 With the unemployment rate in Arizona 9.7% in May 2010, the scene was slightly brighter in the Phoenix metropolitan statistical area (MSA), where the jobless rate was 9.2%. Since nobody knows how strong the current economic recovery will be, anyone who is making career plans should be aware of which jobs have the strongest growth possibilities. Some occupations, such as public school teaching, are not as in demand nor are they as secure as they once were. Others, primarily in healthcare, sustainability (green technology and services) and information technology, are poised to become the best career choices for anyone just entering college or contemplating a career change.
The U.S. Department of Labor is a treasure trove of information about employment trends. Its Bureau of Labor Statistics (BLS) prepared an employment projections report for the fastest growing occupations for 2008-2020. The best careers today in Phoenix and the neighboring communities of Mesa, Scottsdale, Glendale and Tempe and other towns in the counties of Maricopa and Pinal, are the usual doctor, lawyer, engineer and accountant. Many of tomorrow's successful professionals will follow along their predecessors' tried-and-true career paths. But so many others will be entering exciting, specialized fields that have unlimited potential.
The economic foundation of greater Phoenix is rock-solid. The presence of Arizona State University, an acclaimed and affordable public institution that has made countless breakthroughs in research, means that there is much opportunity for getting the necessary education and training for today's and tomorrow's best careers. The fact that Phoenix is the state capital is great for those who are interested in a career in politics and public service.
Phoenix and the rest of the U.S. will be a haven for people who are educated and trained to perform highly focused tasks and deliver specialized services. Throughout the foreseeable future, a two-year associate's degree will be the minimum requirement for jobs such as dental hygienists, who currently earn a median annual wage of $73,720
in greater Phoenix, and physical therapist assistants, who earn $40,880. Other favorable classifications requiring an associate's degree include veterinary technologists and technicians, and environmental engineering technicians. For anyone who loves animals and wants to preserve the planet, opportunity will be knocking.
Most of the best-paying careers will require at least a 4-year degree. At the top of the BLS chart are biomedical engineering jobs, which are expected to increase by 72% through 2020. These professionals design and develop devices such as artificial joints, replacement parts that an aging population will continue to need. Since we are all becoming more concerned about the fragility of our surroundings, environmental engineers, who are now paid $64,690 in Phoenix, should have no trouble finding a job.
Healthcare jobs are thriving. The specialized areas of therapy and technology are booming. With illnesses like asthma on the rise, a career as a respiratory therapist, with a salary of $46,960, is a wise choice. Physical therapists are paid $69,050. Medical and clinical laboratory technologists can expect to make about $47,530 a year. Traditional medical professionals – physicians and nurses – are and will be in demand. Currently, Phoenix's 24,130 registered nurses are paid $63,600. The best earners are the family and general practitioners, grossing almost $150,000 a year.
One area that will always need employees is finance. People will always need to pay taxes, make investments, take out loans and do all sorts of number crunching. Professionals who can cut through the red tape and do all of the addition will be rewarded with a career that pays well. Over 18,000 accountants and auditors in Phoenix earn $50,860. Loan officers are paid $58,360. The people who sell commodities, securities and financial services earn $51,300.
Computer and information technology and services will offer boundless opportunities. Evidence that jobs in these scientific and mathematical frontiers pay well has been well documented, and the BLS picks them to be real chart climbers. Network systems and data communications analyst positions are predicted to grow by 53% through 2020. Currently, these jobs pay $60,040 in Phoenix. Computer software engineering jobs are on the growth chart and pay $73,840 – $81,230.
Today, and likely into the future, jobs relating to the law are a best bet in vocation selection. For those who like to wear a uniform and have a dedication to protecting the public, police and sheriff's patrol officers in the Phoenix area earn $53,730. Forensic science technicians are paid $50,910. Legal assistants and paralegals earn $45,100. The biggest earners are the 5,700+ lawyers, who average $107,590.
This article was written by Chris for the website jobinsighter.com
To be featured on the website, please contact me and send me your article about jobs!