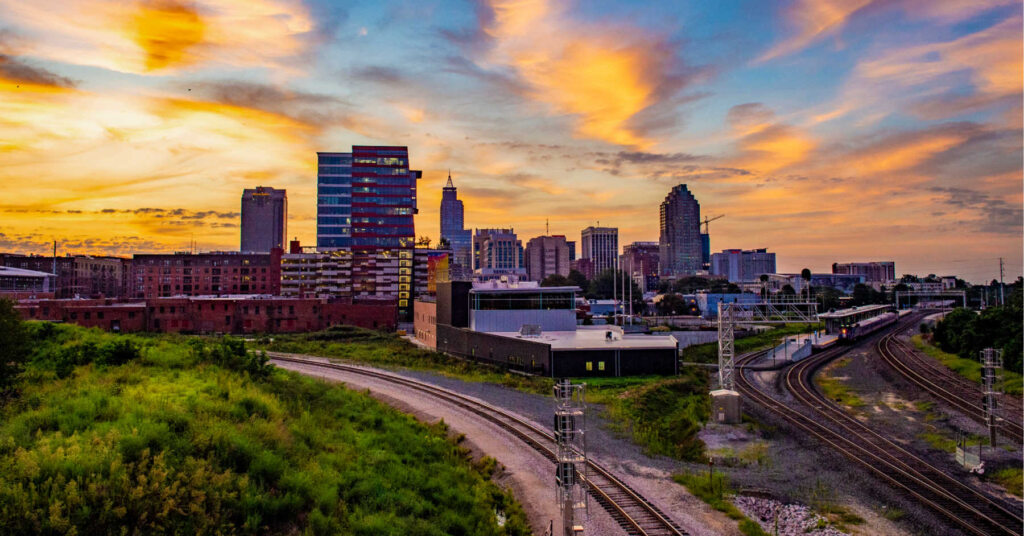 Raleigh, known to some as the "City of Oaks," is the capital and second largest city in the state of North Carolina. With a growing population of over 400,000 residents, Raleigh is ranked as the 8th fastest growing city in the entire country, making it a popular destination for people looking to enhance or establish their career. Today, Raleigh is located within what is known as the "Research Triangle," one of the country's most prominent areas for high-tech and biomedical research. Research Triangle Park includes academic, governmental and corporate institutes which combine to create one of the largest employment sectors in the city. In fact, Raleigh is known as a major national center for research and development for a vast number of products.
Today, Raleigh has one of the promising and diverse economies in the country. High-tech and biomedical industries are obviously very important to the area, but are opportunities in many different fields. Since Raleigh is the state capital, government plays a very big role and the state of North Carolina is actually the city's largest employer. Manufacturing, especially of technical and medical products, is another important industry. Interestingly enough, Raleigh is home to the nation's third largest film office, after only New York City and Los Angeles, which has helped to bring jobs to the area to support the many movies filmed in the city.
There is reasonably high concentration of colleges in Raleigh, which provides many benefits to the city. For example, 45% of the city's adult residents have a bachelor's degree. This, in turn, has attracted many high-level employers to the area, resulting to lucrative and stable opportunities for residents. North Carolina State University is also among the city's largest employers.
Medicine is another major industry in Raleigh. Some of the city's top employers are in the medical industry, including Rex Healthcare, Wakemed and Duke Raleigh Hospital. It should come as no surprise, then, that some of the most popular careers are in the medical field. Registered nurse, for example, is the single most popular career choice for educated professionals in Raleigh. There are over 8,000 men and women working as nurses in the city on any given day, and they are well paid for the essential work they do. On average, a nurse in Raleigh earns about $62,000 a year with salaries extending up to $82,000 for experienced and well-educated nurses. Most aspiring nurses choose to begin their careers in a two-year associate's degree program. Many other choose instead to enroll in a four-year bachelor's degree program, instead, paving the way for higher salaries and greater education down the line.
Raleigh has long been a booming development and production city, with many of the city's top employers involved in the high-tech manufacturing business. With this many production companies in the area, employees are needed to move the city's good and services into the rest of the country. Sales people are an essential part of Raleigh's corporate culture.
All combined, there are more than 9,000 sales people working in the city's many office complexes. General salesmen make up the largest portion of this population, with about 6,000 of them employed in the city today. On average, this variety of salesmen earns about $60,000 a year. The average salary says nothing about the earning potential of a salesman, however; these employees can earn up to $97,000 a year. Technical and scientific salesmen are also very popular with about 3,500 of them working in the city at any given time. The technical nature of their work means that these salesmen tend to be more highly paid than general salesmen; on average, these employees earn about $69,000 a year with salaries extending as high as $117,000 for driven employees. For those sales employees at the top of their game, the position of sales manager may one day open up for them. These are the men and women who have proven themselves to be so talented that they are put in charge of a number of employees. Sales managers are the best compensated in the industry, earning an average of about $100,000 a year.
This article was written by Paul for the website jobinsighter.com
To be featured on the website, please contact me and send me your article about jobs!