Whether you are the one doing the interviewing or the one who will be interviewed, you may be surprised to find that WHEN the interview is scheduled can make a difference in how productive and efficient it is. While we all may feel our best at different times of the day, there are times that are not really optimum for anyone.
The main work-day challenges to avoid when scheduling an interview (if you are the one doing the interviewing) is to watch out for busy times during the day, or first thing in the morning or last thing at the end of the day. If it is a particularly busy time, you might not be able to get away for the interview, or you may get interrupted or distracted. If the interview is first thing in the morning, you may still be getting settled, and trying to make a plan for the day and if you get pulled away first thing, you also may not be able to concentrate and you might be unprepared. Additionally, if you should have transportation problems or be running late, it could reflect poorly on the interview.
It is a bad idea to schedule any sort of meetings for the end of the work day, most of us just are not focused and it is tough to give potential job applicants the attention they deserve if we are exhausted or distracted. Many of us are focused on what comes AFTER work or on wrapping up the events and tasks of the day and not really fully engaged for an interview.
If you are the one who will be interviewed, watch out for back-to-back appointments or for interview meetings that happen too early or too late. If you have a current job, you may be tempted to try to schedule the interview during your lunch hour or before or after work. While this can be fine if these are the only times you have available, ask yourself whether you will be able to give the interview your full attention if you are worried about getting back to work on time?
The best time for an interview is when both (or all) parties are prepared and no one feels rushed or distracted. Give yourself plenty of time to prepare and to arrive at the interview meeting space, and allow for questions, conversation and wrap-up after the main interview is completed.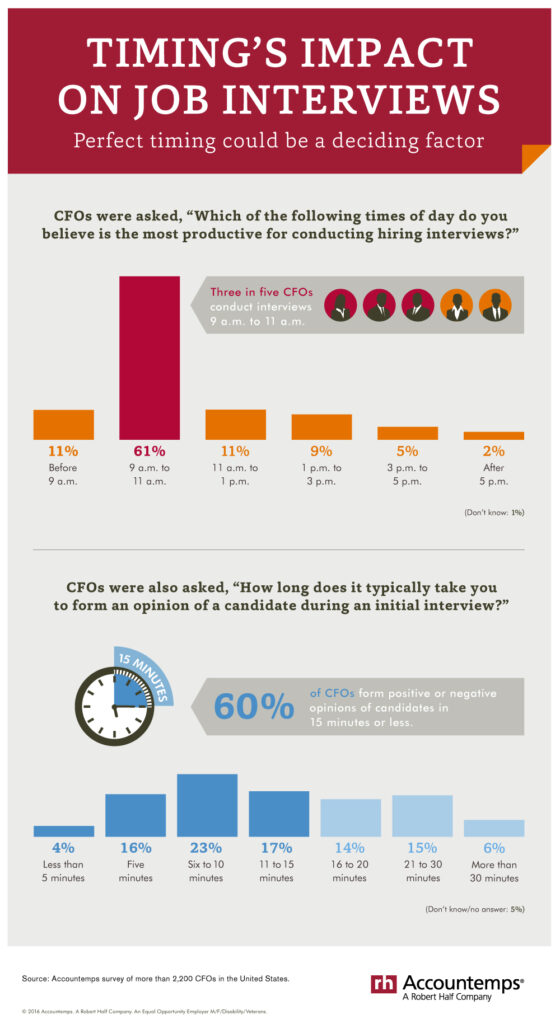 Thanks for reading,
Jake